Main content starts here, tab to start navigating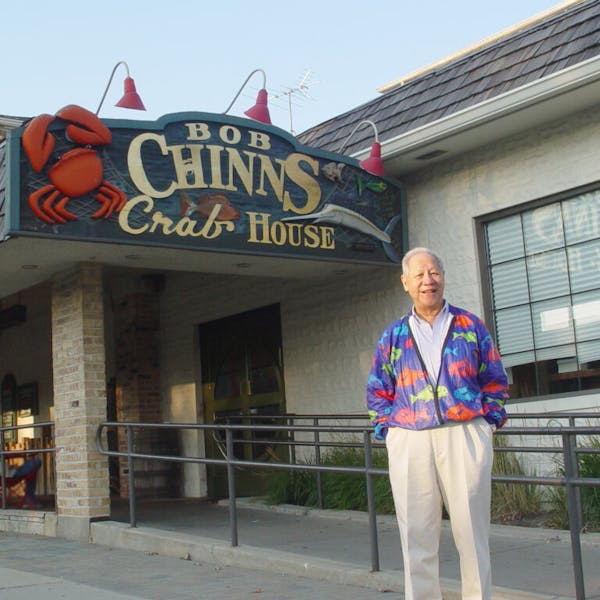 Bob Chinn
Founder
Bob Chinn was born in Duluth, Minnesota on March 2nd, 1923 – the 3rd of 7 children. His parents, Wai and Yung Shee Ong Chinn were immigrants from the Chinese city of Toishan. After a short stint working at a California laundry, Bob's parents moved to the Midwest and entered the Chinese restaurant business.
As a young boy, Bob moved to the north side of Chicago, just 2 blocks from Wrigley Field. His parents owned the popular Uptown restaurant called "New
Wilson Village". Bob had plenty of opportunities to learn about the restaurant business as a youngster helping out at the family business.
His favorite childhood memory is of the Depression Era when his father lost his business and got to spend all his time with us. Bob developed a fondness for baseball in general, and the Chicago Cubs in particular, around this same time. His love for the game has not diminished through the years. He unwinds by watching the games or going to the racetrack for horse racing. Bob is also a voracious reader and enjoys films and live theater.
Bob's first job was delivering Chinese food on foot at the age of 14 for another Oriental restaurant. He left high school and joined the army during World War II. He served for 3 years outside of Belfast, Northern Ireland with the 46th Field Artillery Battalion.
When a serious fire damaged his parents' restaurant, Bob bought the slightly damaged kitchen equipment and started up his own carryout business. The "Golden Pagoda" was in Evanston near the Coronet Theatre. Three years later Bob and Jean moved the business to Wilmette opening the "House of Chan". Bob left the "House of Chan" in Jean's and Brother-in-law, John's, capable hands in the '70s in order to open the "Kahala Terrace" with his brother, Wally. Although successful in this venture, Bob found he needed a new challenge.
In 1978 he and his daughter, Marilyn, began to travel around the country doing research for the Midwestern seafood restaurant Bob had envisioned for some time. After years of planning and development, the father/daughter team negotiated the purchase of a shuttered building on Milwaukee Avenue in Wheeling. The 175-seat "Bob Chinn's Crab House" Restaurant opened two days before Christmas in 1982.
There have been many successes and changes since that time. The restaurant has expanded and grown to be the 4th top-grossing independent restaurant in the United States, with 21 million dollars in sales, serving close to 1,000,000 guests in 1996, and employing more than 370 workers.